Woman with Poppies
---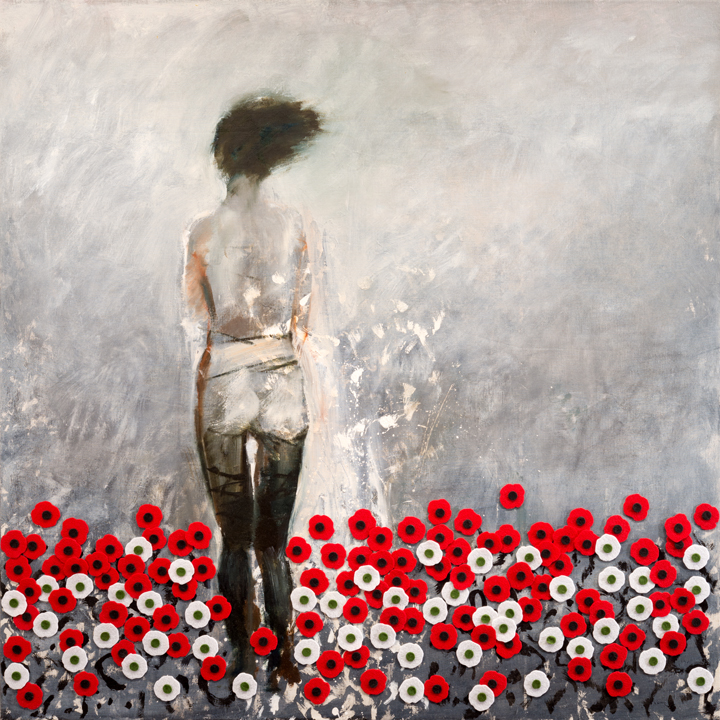 The painting pays homage to those who have suffered collateral damage in war. In particular, the multitude of Afghani women and children who have become opium addicts and beggars due to a host of circumstances beyond their control.
The red poppy, as a symbol of remembrance for fallen soldiers, should in my opinion also be a symbol for remembering all victims of war...not just the combatants. There are 100 hand-cut red felt poppies in this work commemorating those affected since WW1. The white poppy, as a symbol of peace, should serve to remind us to strive for a better understanding of mankindís rights to freedom of speech and association and above all, peace. The 50 white poppies (half the number of red poppies) included in this work allude to world leadershipís apparent preference of war over peace and the lucrative aspect of supplying military weapons to friend and foe alike.
According to Wikipedia, Opium production in Afghanistan has been on the rise since U.S. occupation started in 2001. Based on United Nations Office on Drugs and Crime (UNODC) data, there has been more opium poppy cultivation in each of the past growing seasons than in any one year during Taliban rule. More land is now used for poppy cultivation in Afghanistan than for coca cultivation in Latin America. At well over a million drug addicts in a population of 35 million, addiction in Afghanistan is now proportionately the highest in the world.
---
---
© Copyright Noel Hodnett - 2014 All rights reserved.