"Near Gardiner's Drift"
---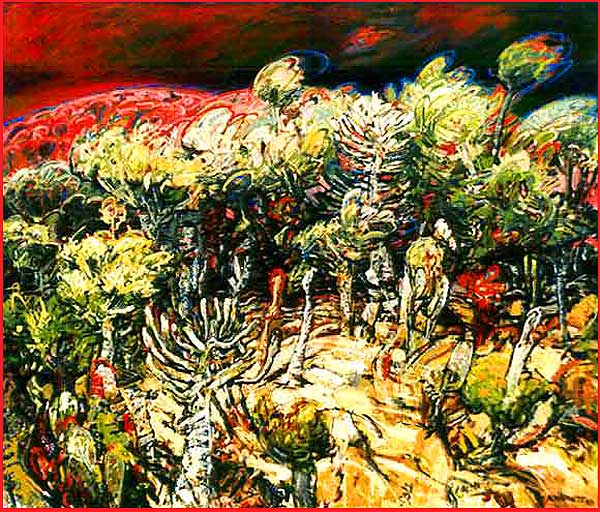 .
In 1989, Noel Hodnett, John Clarke, Nicolaas Maritz, Derrick Nxumalo and Braam Kruger were chosen to represent South Africa at the IX International Biennial of Art in Valparaiso, Chile. The decision to take part in the Biennial in Chile was a difficult one for the artist. Vehemently opposed to the political co-operation between the apartheid regime in South Africa and the outgoing Pinochet government, Hodnett felt that cultural co-operation with a new democratically elected government in Chile showed the way to a new future. The upcoming democratic elections in Chile coincided with the Biennial and the timing convinced the artist to take part...despite being labeled by some as one of the "Springbok Artists".
"Near Gardiner's Drift" and "Up the River" were the two large paintings of Hodnett's that were exhibited at the Biennial.
While in Chile, Hodnett took the opportunity to explore the country and travel from Castro and Puerto Montt in the south to Calama and San Pedro de Atacama in the desert to the north. He crossed the border into Bolivia and journeyed east from La Paz to the terraced slopes of the Cordillera Oriental in the Yungas...the source of inspiration for another work titled "Andean Discussion", and west to Lake Titicaca and Tiahuanaco.
This painting was purchased by the Johannesburg Art Gallery for it's permanent collection in 1990.
Signed and dated lower right. Size: 180 cm. x 150 cm. - 71 in. x 59 in.
Click here or on image to return to Gallery - 7
---
© Copyright Noel Hodnett - All rights reserved.